At one time, the only people learning about the practice of Qi Gong would be in the training of internal systems of Chinese King Fu. Today, more and more people are able to discover the science and art of Qi Gong through their path to improving their health, wellness and fitness. Others may have heard about Qi Gong training peripherally through their other exercise endeavors. They may be taking part in yoga and have come across mentions in yoga websites or magazines about this ancient practice for health and wellness. With their curiosity piqued, they might wonder what exactly is Qi Gong and what benefits can be gained from it.
So, what is Qi Gong?
Basically, it is an ancient Chinese system of health cultivation that has been around thousands of years. It have been refined many times over the centuries. Newer training methods have recently been designed to be perfectly performed by those living a modern lifestyle. This contributes to the greater accessibility of the art.
While there are numerous different schools of thought which revolve around here are a few common, universal component present with all approaches to Qi Gong training. Mainly, the process of performing Qi Gong will entail special breathing exercises, the performance of physical postures, and meditation based focused concentration.
Now, some might wonder what makes Qi Gong training different from so many other forms of exercise that employ similar types of exercises. The main difference would be that Qi Gong centers on the cultivation of the very important life energy that circulates through the body. This life energy is called Qi (aka Chi).
Qi can be best described as the total life force energy helps the human human body remain healthy. It connects the various life sustaining meridians in the body with the universal energy that exists in the world. The universal life energy of Qi is commonly misunderstood in the western world and other parts of the globe. This is unfortunate because understanding Qi allows one to better understand what can be gained through the proper performance of Qi Gong practice. Qi is the energy at the core of all living things. In Chinese medicine, it is noted that once a person's Qi flow stops, then the person will become sick or, worse, die. Qi flows through the meridian points of the body and when these meridians are blocked, the body cannot gain the full benefit of necessary Qi flow. This is where Qi Gong practice becomes incredibly helpful.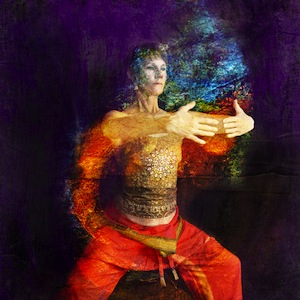 Many will note that the practice of Qi Gong is roughly 2,500 years old based on many historical records. This might not be the accurate listing of the time in which the concept was discovered. Rather, this could be the point in time when the various exercises became much more refined. The reason this is thought is because some will note that the very first records of Qi Gong exercises date back to as much as 5,000 years ago.
Now, we have a clear definition of what Qi is, but what about Gong (aka King) portion? Basically, Kung refers to the performance of good effort. Many assume the term Gung/Gong/Kung Fu means martial arts. It does not. It refers to performing something with great, positive effort. This can include the martial arts or any other task. In this particular case, we are noting the great performance of cultivating Qi energy. This is achieved through the many exercises, postures, meditations, and breathing exercises done to enhance Qi development.
There are other reasons why people will study the art of Qi Gong. The aforementioned concept of healing would be the most common. However, there are also schools of Qi Gong which are directly related to martial arts and sportive training. There are also schools of spiritual Qi Gong which are employed by many to help attain higher levels of consciousness and spiritual development.
Understanding what is Qi Gong is not all that difficult because you do not necessarily have to understand it to get the most benefit from it. As long as you perform the desired exercises in the correct manner, you will find your Qi flow is enhanced. From this, many benefits associated with Qi flow might be gained.